Product Summary
The TLE4946-1L is an integrated circuit Hall-effect sensor. The device is designed specifically for highly accurate applications.
Parametrics
TLE4946-1L absolute maximum ratings: (1)Supply voltage:-18V to 18V, for 1 h, Rs ≥ 200Ω:-18V to 24V, for 5 min, Rs ≥ 200Ω:-18V to 26V; (2)Supply current through protection device:-50mA to + 50 mA; (3)Output voltage:-0.7V to 18V, for 5 min @ 1.2 kΩ pull up:-0.7V to 26V; (4)Continuous output current:-50mA to + 50 mA; (5)Junction temperature: for 2000 h (not additive):155℃, for 1000 h (not additive):165℃, for 168 h (not additive):175℃, for 3 x 1 h (additive):195℃; (6)Storage temperature:-40℃ to 150℃; (7)Magnetic flux density:unlimited.
Features
TLE4946-1L features: (1)2.7 V to 24 V supply voltage operation; (2)Operation from unregulated power supply; (3)High sensitivity and high stability of the magnetic switching points; (4)High resistance to mechanical stress by Active Error Compensation; (5)Reverse battery protection (-18 V); (6)Superior temperature stability; (7)Peak temperatures up to 195℃ without damage; (8)Low jitter (typ. 1 μs); (9)High ESD performance (± 6 kV HBM); (10)Digital output signal; (11)Leaded package PG-SSO-3-2.
Diagrams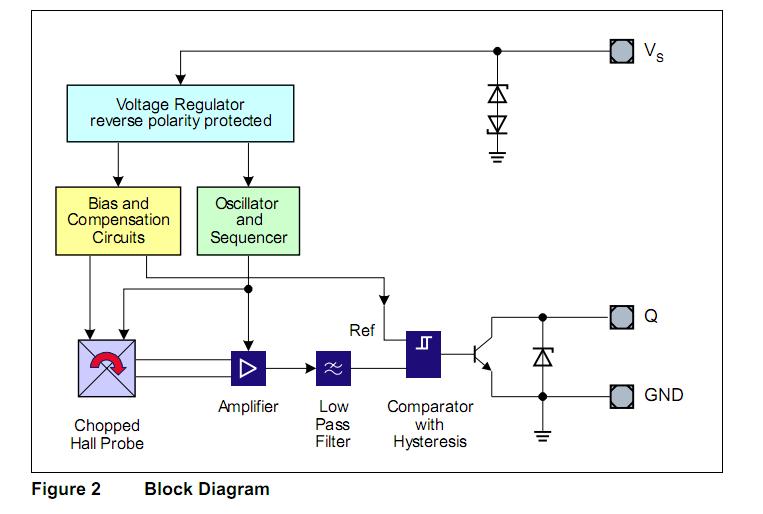 Image
Part No
Mfg
Description
Pricing
(USD)
Quantity

TLE4946-1L

Infineon Technologies

Board Mount Hall Effect / Magnetic Sensors Hi Precision Bipolar Hall-Effect Latch

Data Sheet



| | |
| --- | --- |
| 0-960: | $0.40 |
| 960-1000: | $0.31 |
| 1000-2000: | $0.26 |
| 2000-8000: | $0.25 |

Image
Part No
Mfg
Description
Pricing
(USD)
Quantity

TLE4117

Other



Data Sheet

Negotiable

TLE4203

Other



Data Sheet

Negotiable

TLE4203G

Other



Data Sheet

Negotiable

TLE4205

Infineon Technologies

Motor / Motion / Ignition Controllers & Drivers 1-A DC Motor Driver

Data Sheet

Negotiable

TLE4205G

Infineon Technologies

Motor / Motion / Ignition Controllers & Drivers 1-A DC Motor Driver

Data Sheet



| | |
| --- | --- |
| 0-610: | $1.15 |
| 610-1000: | $0.97 |
| 1000-2000: | $0.92 |
| 2000-5000: | $0.88 |


TLE4206

Other



Data Sheet

Negotiable